Angels for a Heavenly Clean Director, Anna Walczak discusses the challenges of returning to work after lockdown and what business's need to consider for both Staff & Customer safety & confidence.
The government in the UK and those around the world are looking at easing lockdown measures and planning how to reopen business's and re start the economy.
The current lockdown has had a significant impact on the economy and peoples' financial, mental and physical health. However, to move forward the public and business owners need to have confidence AND to give confidence to each other that we can return to work. To do this careful planning and communicating how each business plans to restart and work in a new way that reduces the risk to staff and their families, their customers and is sustainable through the months ahead.
The View of Business and The Public
The biggest concern was the health and wellbeing of staff and their families, in relation to COVID-19 and less than 50% of those interviewed by Ipsos Mori felt comfortable returning to work and interacting with other business's ie visiting shops or using transport.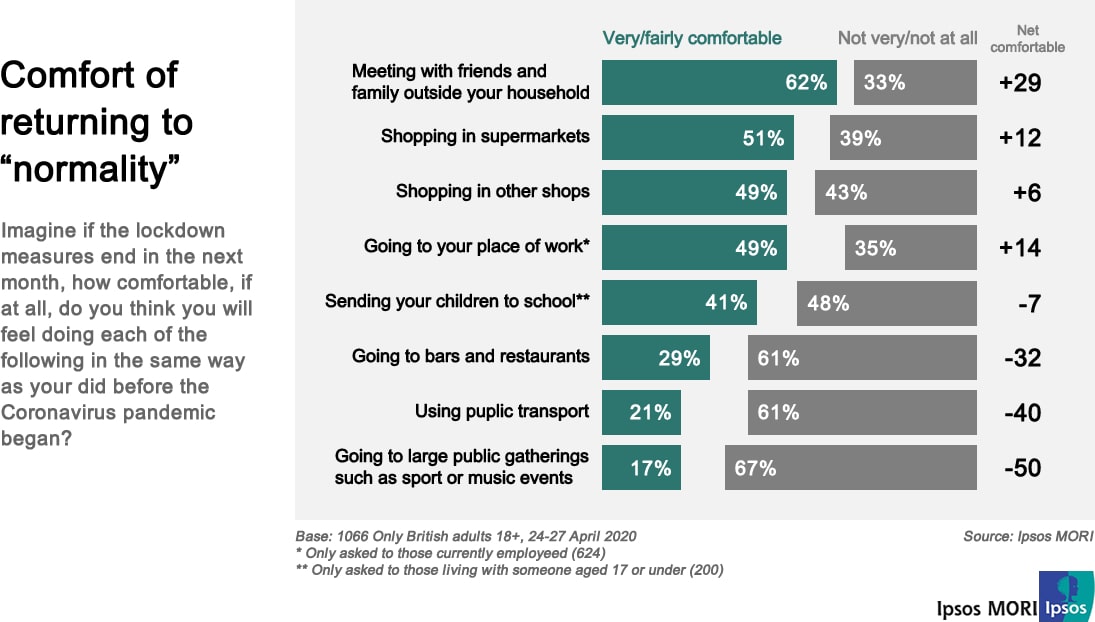 However, most business to continue will need to return to the workplace but it is clear before going back we need to consider managing risk, uncertainty and ensure a safe and healthy environment vital to give confidence to all I mentioned earlier.
Return to Work Planning
Here at Angels For a Heavenly Clean, we have been working to develop a cleaning and desanitisation services to support our clients back to work strategy.
The Preparation, Information, Prevention & Recovery
To assist you we have collated the following suggestions and contacts.
1. Preparation:
Get ready to return to work and identify your return to work plan. This should include the following:
Arrange with Angels Clean to conduct a preoccupancy inspection and arrange a preoccupancy deep cleaning programme
Prepare your building for occupancy based on the protocols and Government's latest advice for work safety guidelines and have a process in place to ensure these are monitored and updated
Issue staff training on good hygiene matters and establish a daily cleaning schedule
Have a very clear cleaning process agreed with your existing cleaning firm – Angels can help prepare this or take over the service completely This will need to look at each area of the office and how those area's are used:
1. Building entrance or lobby
2. Workspace
3. Staff kitchen breakout areas where food is prepared and eaten
4. Meeting rooms for internal use
5. Meetings with clients
2. Information:
Communication with staff is vital to reassure and instil confidence that their safety is a priority also its critical if these measures work staff understand why they are being asked work this way and for them to be buy into the plans.
Arrange a welcome back to work program for staff and managers, to inform them of the 'new' workplace protocols.
This includes:
Workplace distancing protocol and building cleaning arrangements
Travel and arrival arrangements
Sign posting for staff to help them find Government advice pertinent to their personal situation and who they can discuss any personal issue's / concerns with
Working arrangements including breaks
Seating arrangements
Workstation health and hygiene requirements
Eating and drinking and use of fridges for personal food
Ill-health reporting and staff support program
Travel to and from client sites or meetings
Vehicle hygiene requirements and checks
And keep reinforcing your health and hygiene messages and ensure there is a feedback function is place as ultimately to work efficiently they need staff cooperation and support as it is a team effort to keep the team healthy and safe.
3. Prevention is key:
Angels for a Heavenly Clean will establish what is needed to minimise the risk to your business focusing on the below in their initial report. We can continue to work with you to ensure that health and hygiene is managed and maintained with special focus on areas below.
Identifying key touch points in the workplace and providing appropriate sanitation stations to allow hands & surfaces to be regularly cleaned
Washroom cleanliness, monitoring and reporting
Determining cleaning frequencies of different areas based on core activities
Staff provided with appropriate PPE and be visible to staff during the working day the PPE is recommended will vary depending on the role's undertaken
Testing and Reviewing of all process's
4. Recovery:
Business recovery is vital and these initial return to work steps are a key make or break stage. Working with the business owners and managers Angels for a Heavenly Clean can monitor the effectiveness of the measures put in place to return to work and help adapt the program to ensure that it remains effective and is supported by the staff who have returned to work.
This process and situation can also be used to enhance restore confidence in the business and staff / management relations especially if you constantly Review lessons learnt from the and ask for feedback to keep all staff engaged in the process.
We strive to earn the trust of our clients both commercial and domestic by delivering the highest quality results with a friendly team to back it up.
Call or enquire now for more information.
CONTACT US TODAY TO ARRANGE